Finding a job has never been "a piece of cake". There are challenges regardless of which stage of your career you are in. Some challenges can somewhat be overwhelming and makes it seem impossible especially for a stay at home mother(SAHM) to return back to the workforce.
To help our fellow mothers who has interest in returning to work, we decided to put a quick initial guide just for you.
ONE
:YOU are a SUPERWOMAN
It is easy to forget or overlook what you may be good at while being a SAHM. Believe me when I say there are probably tonnes. So for a start, stop being too hard on yourself, sit down, take a deep breath, start by simply listing down your strength. While you are at it, think of experiences that may be worth noting. Examples, part-time work, volunteer/community involvement, freelance project or mumpreneurship.
If you still can't think of any, do not worry stick to your strength.
Once you are done with that, be honest with yourself and list down your weaknesses. Being able to identify your weaknesses is in itself a strength and the first step to improving it.
TWO
:Update your cover letter, resume or/and CV
Having a copy of these would help but if you can no longer find it, not to worry because you probably have to reorganise everything anyways. It is as good as starting new.
Many experts in the hiring/recruitment industry note that selecting the correct resume format is critical for parents returning to work. Based on our research the two suggested formats are combination or functional resume format. Avoid chronological format at all cost!
THREE
: Identify potential job opportunities and its requirements
It is always good to be aware of current job market. Regardless if you are working or not. Returning to workforce or not. It helps to keep up to date with trends, job interest and its requirements. It keeps you in check. Once you get an idea of what it is you may want should you return, you can strategically plan out your next step in order to stay relevant. Do not be afraid to ask help from a career advisor or counsellor.
FOUR
: Relearn, upgrade and stay relevant!
The way things are done three, two or even a year ago may not longer apply. In today technology driven world. Everything changes so fast. It is important now more than ever to keep yourself up to date and relevant.
Depending on your industry of interest, you can probably find online tutorials or courses that provide some basic fundamental knowledge in the topic of interest.
For example, I am currently very much interested in digital marketing.
Being frugal as I am now, I look for anything it value for money or best of all FREE!
For my digital marketing interest I turn to Google Digital Garage. Not only does it provide you FREE training BUT it is also flexible and personalised. PERFECT for a mother who is juggling her time between family and me time.
If you are a Singaporean, do not forget about Workfare Training Support Scheme, Skillfuture Credits or SkillFuture Study awards!
So even if you are money or time strapped. I say STOP making excuses, make time and leverage on existing resources! The knowledge you gain is return of investment in itself.
Stay motivated!
Even if you are not actively looking to return back to the workforce. These four checkpoints can serve as an excellent motivational guide to build up your confidence, keep in touch with market changes, encourage continuous learning  and staying relevant.
Base in Singapore & Keen to return to work
However if you are looking to return to work and you are base in Singapore, then you are in luck! In the recent years, the government together with other organisation have been working together to provide support for those returning back to work.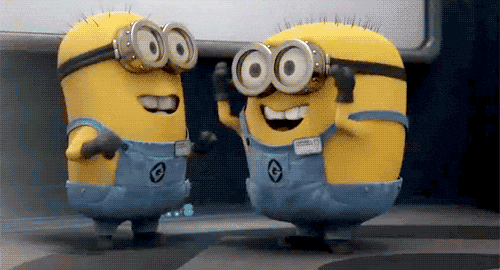 Credit:college-life-crisis.tumblr.com via GIPHY
NTUC U Family launched a programme in 2017 aiming to support PMET individuals who have been out of the workforce for two years or more and keen to return. They hope to facilitate
Identify potential employers who are able to provide

Maximum of 6 months paid job trial

On the job training and mentoring

Available permanent positions with full salary

Flexible work arrangements

Connect these potential employers to returners
For more information on the programme, please refer here.
Mums@Work – Career Navigators primary target is to support female PMET and ease their return journey back to work. They have two programmes  Career Re:Launch and JumpStart programme. In partnership with interested organisation, these programme includes
Breakdown
Career Re:Launch (CRP)
JumpStart (JSP)

Duration

12 – 16 weeks

8 weeks (4 additional weeks by employer

Onboarding programmes

Industrial trends

Mini training of

Business

Technology

Changement management

3 – 5 days

½ day

Condense version of CRP

Mentorship

Yes. Buddy and networking with organisation at large

Yes – Programme Manager + Reverse mentoring

Check-in

Yes

Yes

Feedback & Appraisal

Yes

Yes
At the end of the programme, permanent or contract roles may be offered based on participants performance and the business need of the organisations.
Thanks to these organisation and the supportive goverment bodies, returning back to work feels less intimidating and maybe not at all!